Case Study
Waste Management's Small Card Makes a Big Brand Statement
For well over a decade, Marfield has provided a dedicated private-branded online store for Waste Management's brand identity program, including business cards, stationery, and more.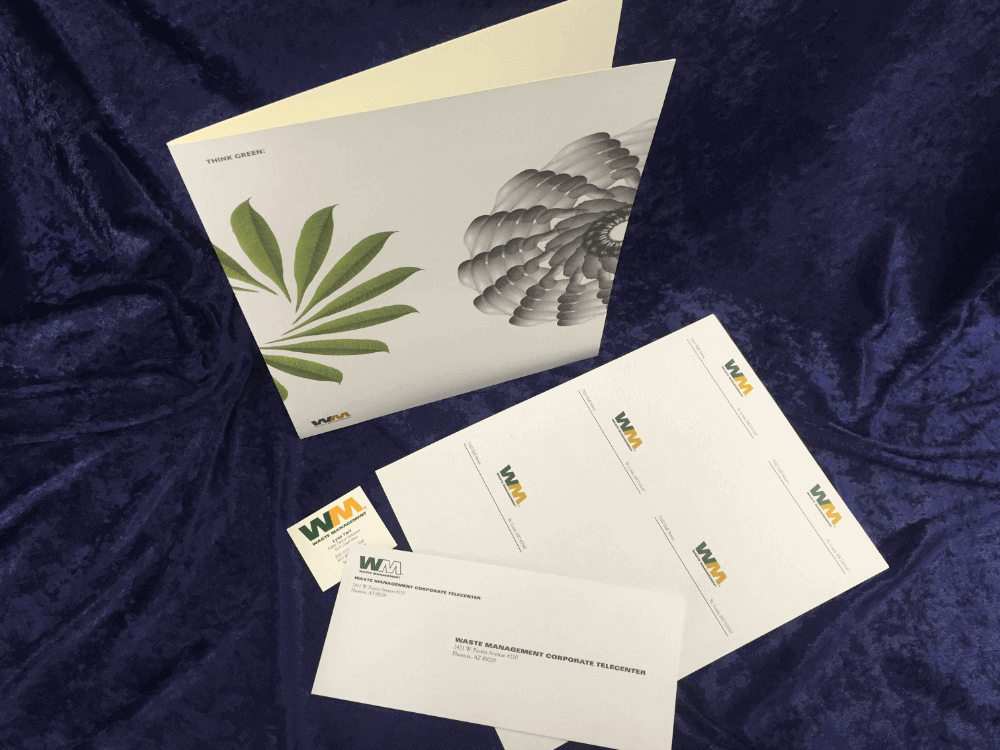 Think Green Brand Campaign
As part of Waste Management's Think Green brand campaign, Marfield offers a reduced size business card in a nearly square 2.25 inches wide by 2 inches tall. On 100% recycled paper, of course. To launch the small card, the marketing and branding team at Waste Management issued…
"Small Card. Big Statement."
The Waste Management brand takes hold in many ways. Even the business card you hand to a customer can say a log about our commitment to sustainability and how we "Think Green."
When that business card is nearly half the size of a traditional card, it becomes a conversation starter as well as an information holder. That's why every member of the WM sales organization needs to use the small, square business cards.
It tells every customer, immediately, that we're serious about our mission to reduce waste and embrace sustainability. Besides requiring significantly less paper, these square business cards use a 100% post-consumer recycled paper stock. They are also printed on a digital press using toner, not ink, a more environmentally friendly approach with less paper waste and chemicals than traditional offset printing.
So after your next meeting with a prospective customer, don't just hand them a business card – give them a brand statement. For more information about Waste Management's Think Green brand, see thinkgreen.com.
Challenge Us! Get Your Risk-Free Consultation
Explore what Marfield's experienced business print branding experts can do for your brand:
Save money on Marfield's economical print options

Save time shopping your exclusive Online Stationery Store

Save trees with Marfield's eco-friendly choices

Impress with unique die cuts or printing treatments
Have Marfield deliver locally — or ship anywhere

Count on us to meet your project deadlines

Keep brand integrity by printing at Marfield