Curious about the basic differences between offset and digital printing? In the world of commercial print shops, there are digital printers, and offset printers. At Marfield, we do a bit of both, sometimes on the same print job.
Commercial digital presses rely on computers to digitize images and text to be reproduced, and apply fuser fluids that quickly cure on paper using heat or ultraviolet light. Digital printing is well suited for personalized names, addresses, and other variable data such as on business cards, forms, notepads, postcards and other marketing collateral. It's also great for short-run (low-volume) print requests and projects needing quicker turnaround.
Offset plate presses rely on a separation process using oil-based (or soy-based) inks in cyan, magenta, yellow, and black (the CMYK color scale) or in pre-mixed Pantone inks, each applied to separate rollers then rolled onto a rubber blanket and then transferred onto the paper or other desired surface. It's traditionally best suited for extraordinary sizes and materials, or long runs (high volumes) of identical copies, such as letterhead, envelopes, brochures, newspapers, magazines or books that may be one or more ink colors or perfectly matched Pantone colors.
Marfield has certainly offered offset printing for more decades since its founding in 1968 than it has offered digital, which it first adopted in the 1990s.
"Digital printing has come a long way over the past 10 years. As with everything else to do with computers, digital printing has evolved with better automation, variety, environmental impact, and quality. Although over the years digital printing has become more readily available online or down the street, many corner print shops offer less accurate color matching than the results we provide at Marfield."
In 2016 Marfield upgraded its digital printing equipment. It saves energy using a newer toner that requires less heat to cure. It increases capacity by handling higher volumes with faster turnaround. It diversifies the product mix by handling a greater variety of paper sizes and material weights. It saves print profiles for future runs, which automates consistency from order to order, spanning weeks or months.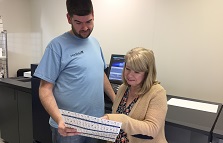 "Marfield's amazing creative design team and experienced print professionals also have new flexibility in the product mix for variable data target marketing collateral. The result is greater power for you as a customer to leave an effective, lasting impression of your brand."
Which Is Better, Digital or Offset? It Depends.
Which one is better for your project, a digital printer or an offset printer? Of 10 factors illustrated in our infographic (download PDF), these five are critical:
Quantity — Does your project require identical imprints over 500 in quantity? If so, offset may be your best choice. However, high page-count jobs such as booklets, catalogs, books or manuals at lower quantities print well on digital presses.
Size & Materials — Does your project require larger or unusual sizes or materials? While offset is traditionally the better choice, Marfield's new digital press offers a greater variety of posters, banners, booklets and displays.
Variable — Does your project require personalization or data integration of names, phone numbers, addresses, barcodes, QR codes, other unique codes and so on? If so, a digital press is usually best suited. However, some jobs use a combination of offset shells, where we print the variable text and images digitally.
Colors — If your brand guidelines have Pantone colors defined, it's usually best to stick with them on an offset press. However, newer digital printers use Pantone Matching System (PMS) digital libraries to accurately reproduce the desired colors. Metallic inks, coatings and other treatments may give your project an extra edge.
Price & Production Time — Offset presses require more days to set up the plates, process through multiple rollers, and dry the ink. The higher the order quantity, the less offset costs per unit. Digital presses usually have a more automated setup and output that requires no drying time. Digital offers lower minimum quantities, lower setup costs for short runs and shorter turnaround.